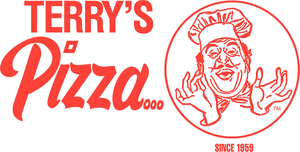 Established in 1959, Terry's Pizza was a Huntsville institution operating three pizza parlors. The owner died in 2005, and in June 2006 the family padlocked the doors and shut the business. That is when Star Super Market Owner, Darden Heritage, bought the rights and re-opened the doors for business.
Terry's Pizza is located at 7900 Bailey Cove and in Star Super Market 5-points and Star Super Market Meridianville. We have a limited delivery option available at the Bailey Cove location through Grub South.
Terry's Pizza is prepared made-to-order, along with eight signature recipes, including:
Sticky Fingers Special (sausage, pepperoni and mushrooms loaded with extra cheese)
Chef's Special (sausage, pepperoni, mushroom, green pepper and onion with anchovies upon request)
Bavarian Pizza (ham, pepperoni and Polish sausage over a bed of kraut)
Maui Wowee (ham, pineapple, cheese).
Terry's Pizzas are prepared the store's brick oven or you can take-and-bake. You will not find a better pizza anywhere!
Toppings
Italian Sausage
Fajita Chicken
Canadian Bacon
Pepperoni
Mushroom
Onion
Ground Beef
Pesto
Fajita Chicken
Jalapeno Pepper
Polish Sausage
Green Pepper
Spinach
Green Olive
Ham
Pineapple
Diced Tomato
Anchovy
Bacon